So, Ash Wednesday is finally arriving next week (so late!), and it has me considering what to do, both myself and for my family, for Lent this year.
I feel like we had an incredibly fruitful Advent in 2013. No, seriously,
way
better than any I've ever had, I think. I credit two things that really worked for us. First, we committed to getting--and actually got--all of the Christmas shopping done prior to the start of Advent. I cannot emphasize how huge this was for me, because we have a lot of people to buy for, with no real way to scale things down by drawing names or anything. Obviously this won't be an issue for Lent, because we don't go huge on Nate's Easter basket, and he's the only person we need to buy anything for.
Second, we finally tried a
Jesse Tree
. Lots of families make their own Jesse Tree ornaments, but I have negative craftiness skills and a kid who really couldn't care less about making things. So I bought one of tabletop ornament display trees (
this one
, in case you're curious), and got a gorgeous set of painted
wooden ornaments
from
Jesse Tree Treasures
on Etsy.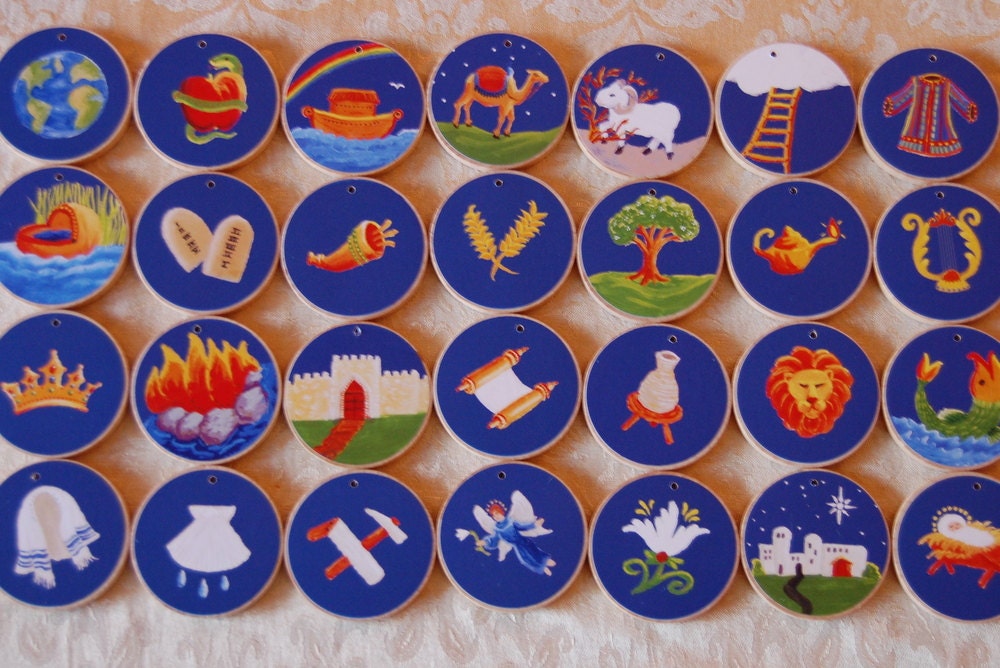 Simply lighting the Advent wreath had never been a successful tradition for us. I wanted to light it during dinner, but between David getting home late or Nate needing to eat earlier than David and me or going out to eat, more often than not we weren't able to make it happen consistently.
With the Jesse Tree, we had a short, consistent routine for each night of Advent. Shortly before getting Nate ready for bed, we'd light the Advent wreath, sing a verse of O Come O Come Emmanuel, read the Bible story that accompanied that day's ornament (from one of Nate's children's Bibles*, if possible, but occasionally from my Bible for the less popular stories). Then Nate would hang the ornament on the tree and blow out the candle. It was quick, easy, consistent, and really kept us focused on how all of history led up to the Incarnation.
(* Nate has a couple of Bibles that we really like. My favorite is the
Jesus Storybook Bible
, which has a beautiful way of explaining all of the stories to make them relatable to children and refers forward to Christ in every Old Testament story. Be warned, however, that it is a Protestant Bible and contains theological flaws in its description of the institution of the Eucharist. We also have
My Big Book of Catholic Bible Stories
, which is beautifully illustrated and I think will become our go-to as Nate gets older. Its text is actually pulled straight from the Bible, and just has introductions for each story, and accompanying prayers, questions, and pictures. Because it's straight-up Biblical text, though, it can be a little bit over Nate's head right now.)
I'd love to do something similar for Lent, and I just saw that the same shop from which we bought the Jesse Tree ornaments is offering a lovely set of "
Jesus Tree" ornaments
. (And I recognize that these ornaments and the Jesse Tree ornaments are kind of pricey. I figured they were something we would have for many years to come, and so were worth investing in.)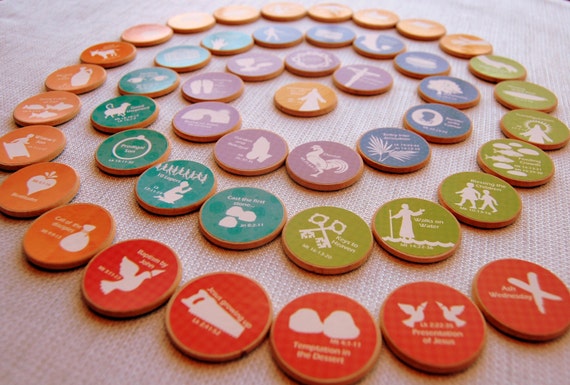 I've also seen this beautiful wooden
Way of Light
wreath, although I really like that the ornaments come built-in with instructions telling us which Bible passages to read as a family. When it comes to devotions with my particular four year old, it needs to be pretty straightforward.
I'd love to do some sort of emphasis on almsgiving for Nate, as well, and I know some families who collect change with their kids for Catholic Relief Service's
Operation Rice Bowl
. He doesn't yet get an allowance or anything, but maybe we could go through his toys together and decide on some to donate. I also think something like a Forty Bags in Forty Days (donating forty bags of items during Lent) would be good for all of us and for my house. Maybe I could get inspired to clear out some of the baby stuff I've been holding onto for so long.
For myself, I'm wondering whether this Lent might finally be the time I can make the Rosary a habit. I know that not every devotion needs to speak to every Catholic, and I love other devotions like Morning or Evening Prayer from the Liturgy of the Hours, but honestly I feel like a "bad" Catholic for never being able to make the Rosary a regular part of my prayer life. I have an excellent audio
Rosary app
on my phone that I like because it includes nice descriptions of each of the Mysteries and makes it easy for me to keep them in mind as I pray each decade. That might help me get started.
Miriel
also introduced me to the idea of a "Rosary walk" when she was living here, and I really like that way of praying the Rosary; when I'm just sitting in a room I tend to get distracted.
In particular, though, I'm interested in what we can do
as a family
. Nate is old enough now that he can really start to understand the liturgical seasons, and I would love for him to be able to look back on something that we always did for Lent while he was growing up.
Do you have any family Lent traditions?